Volunteer Work in Exchange for Accommodation 
Websites like Work Away list hosts in all different countries around the world that let you stay with them in exchange for a few hours of volunteer work a week! Work Away offers over 50,000 opportunities in more than 170 countries worldwide. It is an international program that allows travelers to pay for their room and food by helping their host with household work needs, projects, or odd jobs.
Workaway differs from other volunteer programs such as International Volunteer HQ and Plan My Gap Year in that you search for individual hosts on their platform. The projects that they list usually are not structured volunteer programs and you may not have an opportunity to interact with other volunteers or travelers. While you can experience the tourist's version of different countries by visiting the famous cities and staying in hotels, Workaway gives you the opportunity to spend quality time in the home of locals.
Most hosts expect you to work about five hours a day, and some do offer additional pay, which you can find in their bio on the Workaway website. The duration of your stay could be a few days or an entire year; you and the host decide this before you arrive. Since this isn't a legal contract between you and the host, you are welcome to leave early if you face issues. Workaway encourages you to have a backup plan in case the arrangement goes poorly, though this should be an option only in extreme situations. On the flip side, you may find that you love the arrangement and can even stay longer than you expected!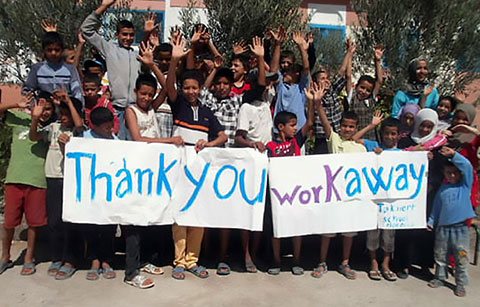 To get started, go to Workaway's website and start researching the projects that interest you. Workaway offers a lot of information about each host, so you can avoid arriving to their home feeling nervous or frustrated. Spending the time finding the host that best matches your needs and expectations will give you the greatest chance at a fantastic experience. Workawayers are encouraged to leave reviews of their hosts, and vice versa – this helps you learn from others about what to expect.