Waimea Bay is one of my all time favorite spots to cliff jump in Oahu. I am not one for touristy activities but this cliff is too fun to pass up. Drive an hour northward from downtown Honolulu and you will find yourself in Waimea Bay Beach Park on the North Shore Oahu. With crystal-clear aquamarine waters, ocean cliffs (approx. 10 meters in height), calm ocean surface, and powdery white sand, Waimea Bay a perfect spot to try cliff jumping while in Hawaii in the summertime season. If you're not much for cliff jumping, it's also a great place to beach it. 
Your introduction to cliff jumping/diving should probably begin here.  This is the medium cliff jump – not too high and not too low.  It's approximately twice as high, and several times more thrilling, than the rock at Sharks Cove.  But it's just a little more than half as high, and significantly less scary, than the rock at Kapena Falls.  It's just high enough to seem a little intimidating without really threatening any serious danger.
The highest point is basically right in the middle of the rock. If you don't feel comfortable starting there, first jump from a lower spot out toward the end. You can jump from either side of the rock; but be aware that the back side (facing the edge of the bay) has a rockier bottom, whereas the front side (facing the bay) has an almost entirely sandy bottom.
If you go to Waimea Bay when the winter surf is getting big (around October to March), you're in for a much different extreme adventure! It's not uncommon to have waves crashing across the top of the jumping rock and/or a five-meter shore break (measuring by wave face) crashing into the sand across the entire width of the bay – trust me when I say that winter at Waimea Bay is for risk takers at this time of year.
No longer should you think about letting your kids play in the water or plan on jumping off or swimming through the rock.  I would advise to just chill it out from the shore and watch the pros do their thing!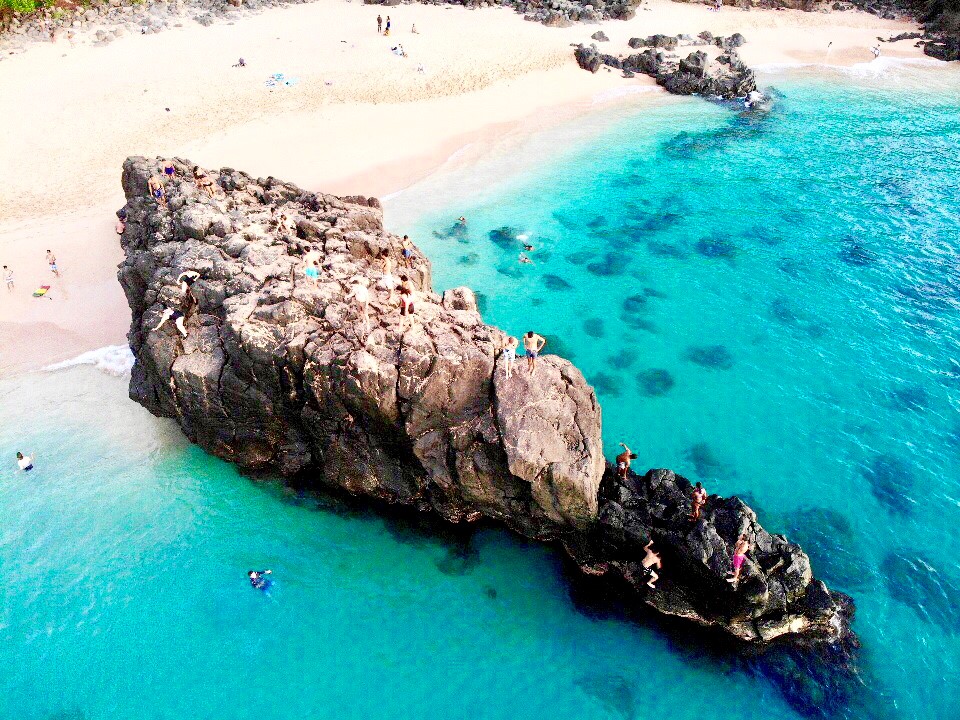 There are bathrooms, showers, and a well-maintained picnic area at Waimea Bay, but there are no other conveniences (concessions, etc). Parking is often sparse even on the less-crowded days. Arrive early for your best shot at availability or park on side of road leading up to it.
There are lifeguards on duty throughout most daylight hours every day. Even on a calm day, there can still be a bit of a current in the water. 
All in all, Waimea Point is definitely a must see. Whether you're with friends, family or solo – its definitely a vibe.